Decode your DNA to learn your unique nutrition, fitness, and lifestyle needs.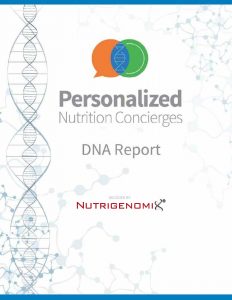 Do you need more healthy fats or more whole grains in your meals? How well does your body process starches, gluten, or lactose? Should you be swimming, instead of weight training, to take advantage of your particular muscle fibers?
Our Personalized Nutrition Concierges use genetic testing and body composition analyses to determine what nutrition and exercise program is most effective for your body…and what will keep you motivated and feeling your best.
Health and wellness does run gene-deep! Empower your body with the best nutrition, physical activities, and lifestyle for your genetic needs.
your nutrition-related results



Do you have a risk of gluten or lactose intolerance?
Are you at increased risk for a Vitamin A or B₁₂ deficiency? Should you consume more through your diet?
Some of us receive a healthy boost from caffeine, while others might actually see an elevated risk of high blood pressure and heart attack. Should you drink that extra cup of coffee every day?
We need to consume the right quantity and proportion of vitamins and nutrients each day to maintain good overall health and high energy levels. Receive your own DNA test results and learn about your nutrient metabolism, heart health needs, and food tolerance, including the following dietary components:
• Vitamin A
• Vitamin B₁₂
• Vitamin C
• Vitamin D
• Vitamin E
• Iron
• Folate
• Calcium
• Caffeine
• Whole Grains
• Sodium
• Omega-3 Fat
• Saturated Fat
• Lactose
• Gluten
your macronutrients needed for energy



From the food pyramid of the Twentieth Century to the Atkins diet, no one can seem to agree on the best program for optimal health and weight management. Current scientific research shows that we each have our own macronutrient requirements – we are all too unique to rely on one-size-fits-all programs.
Do you know how to manage your weight and body composition without decreasing your energy levels? Discover what percentage of your energy, in the form calories, should come from the following macronutrients to help you manage your weight and feel your energetic best:
• Energy Balance
• Physical Activity
• Protein
• Total Fat
• Saturated Fat
• Unsaturated Fat
• Monounsaturated 
your exercise behavior and best fitness activities



Your DNA plays a large role in determining your motivation to exercise, as well as your likelihood to engage in a physical activity. Many of us are also predisposed to types of exercises that works best for us. For example, one in four people have a performance advantage for high-endurance activities, while up to half of us have enhanced capabilities for power and strength activities.
Are you interested in gaining a more effective workout routine for weight loss? Or are you an athlete looking to boost your performance? Your unique DNA provides insight into the best fitness activities for you to accomplish the best and most long-lasting results.
• Motivation to Exercise
• Exercise Behavior
• Power and Strength
• Endurance
• Pain Tolerance
• Achilles Tendon 
Your unique health and weight management needs are no longer a mystery with Personalized Nutrition Concierges DNA testing! Decode your DNA to boost your health and athletic performance today.
protecting your privacy

Here is our commitment to you: We never, ever, sell or in any other way release your information unless requested by you. (You can view our privacy policy here.) ALL personal health information is encrypted, secured behind firewalls, and compliant with HIPAA regulations. If requested, your DNA sample can also be destroyed after it is tested at the lab.